Wellness Center for Hope

"When I leave here, I always feel wonderful. It's worth it to me. I feel positive, and it's too easy to get negative when you don't feel good."
-Grateful Patient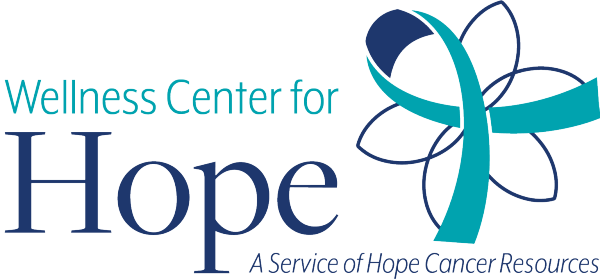 The Wellness Center for Hope promotes wellness, healthy living and overall quality of life in cancer survivors and caregivers by offering access to knowledge and a variety of health-oriented activities that will aid in a healthier cancer journey. Our wellness team, including a certified health educator and certified personal trainer, provides individualized plans for survivors and caregivers to help with emotional and physical well-being.


Wellness Center for Hope Goals:
• To restore physical activity in the lives of cancer survivors and caregivers through yoga, light exercise and weight training.
• To optimize nutrition and healthy weight of cancer survivors and caregivers through nutrition interventions, stress reduction and adequate sleep.
• To foster the development of healthy behaviors and lifestyles in cancer survivors through tobacco cessation and motivational and solution-focused therapy.


Come experience an enhanced quality of life at our Wellness Center for Hope. All services are offered free of charge. If you are a cancer survivor or caregiver and interested in improving your balance, strength or overall health, please contact Hannah Edwards, CPT, CES, CTTS, Director of Wellness Services at 479.361.5847.


The Wellness Center for Hope is funded in part through grants from the Cancer Challenge and Susan G. Komen – Ozark Affiliate, as well as the Hope Cancer Resources Foundation and corporate and individual donations.